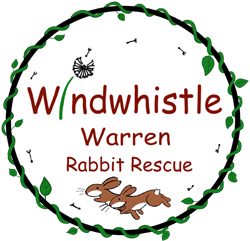 Welcome to Windwhistle Warren Rabbit Rescue!
Rabbits are the most neglected of pets and our aim is to change that for the ones who come into our care. As well as caring for and rehoming our rabbits, we also board both Rabbits and Guinea Pigs. Please look around and support us in our mission.

This site will help you stay up to date with what's happening at Windwhistle. Find our more about the work that we do. You might also pick up some hints and tips about caring for your existing pets.
If you feel able to help us by giving time or money, please see how you can support us.
If you think that you would be able to give some of our rabbits a new home, please view our guidance and take a look at our Rabbit Adoption section.

If you have any questions or wish to find out more, please feel free to get in touch at any time.